First off I gotta let y'all know that the links in this post and on my blog in general may be affiliate links. It doesn't cost anything extra to you, it just helps support this blog, thank you! You can read my full disclosure policy HERE.
It's been a while since I've even wanted to think about goal setting. But here I am setting October Goals…
Honestly, 2019 was such a rough year (which really so was 2018) that goal setting was something I didn't want to even think about in the beginning of 2020.
Then 2020 happened. And setting any type of goal was a big ole NOPE! But over the past couple weeks, I've been seeing goal setting a little differently. I was looking at goal setting as something that I was most definitely setting myself up to fail at. None of my goals were going to be attainable because of outside circumstances.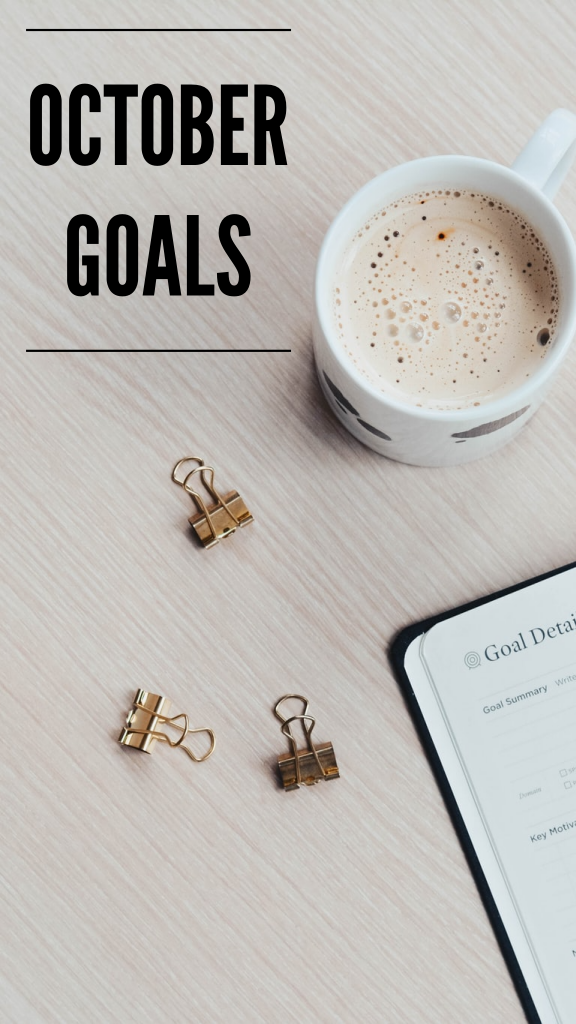 I am setting attainable goals in 3 areas for my October goals. Health, Homeschool, and Relationships. These 3 areas are my biggest priorities in life so it's only natural that I start here. Yours may be different.
Health
My health goals for October are pretty simple. I'm including all aspects of health in this category. Spiritual, mental, and physical. 1: Add a veggie to every meal. (physical) 2. Reduce stress (mental) 3. Read "Trust Without Borders" by Arabah Joy (spiritual)
Relationships
These goals are a little trickier for me. I value my relationships outside of my immediate family, but I'm not very good at reaching out and keeping in touch. Especially this year, not being able to get together and with friends moving away, it just made it harder for me to keep up those relationships. But I'm going to work on that this month! 1. one at home date night with hubby a week 2. greet each child with a "warm good morning" each day 3. Reach out to one friend by calling or facetiming *gasp* I know…people don't do that, they text but I need to actually see or hear people sometimes LOL
Homeschool
Oh homeschool goals… these are always the hardest for me. I LOVE homeschooling so much, that I actually make my goals TOO GRAND. I have to make myself tame them down a bit. Anyone other homeschool mama's like that?! 1. School 3 days a week. We are super busy with all the sports and other classes and activities right now. So my goal is 3 days a week – if we do more awesome, but if we aren't on an off week I want 3 days to be the minimum we do school. We will move back to 4 day school weeks once everything else slows down again at the end of the month. (this is why I LOVE a year round schooling approach)
I want to start small with my October Goals. I am also going to sit down and right out some long term goals as well. I'm glad that I feel like I can make goals again and it's not an overwhelming thought!
What are your goals for this October?? (check out my insta to see how I'm braking them down weekly!)